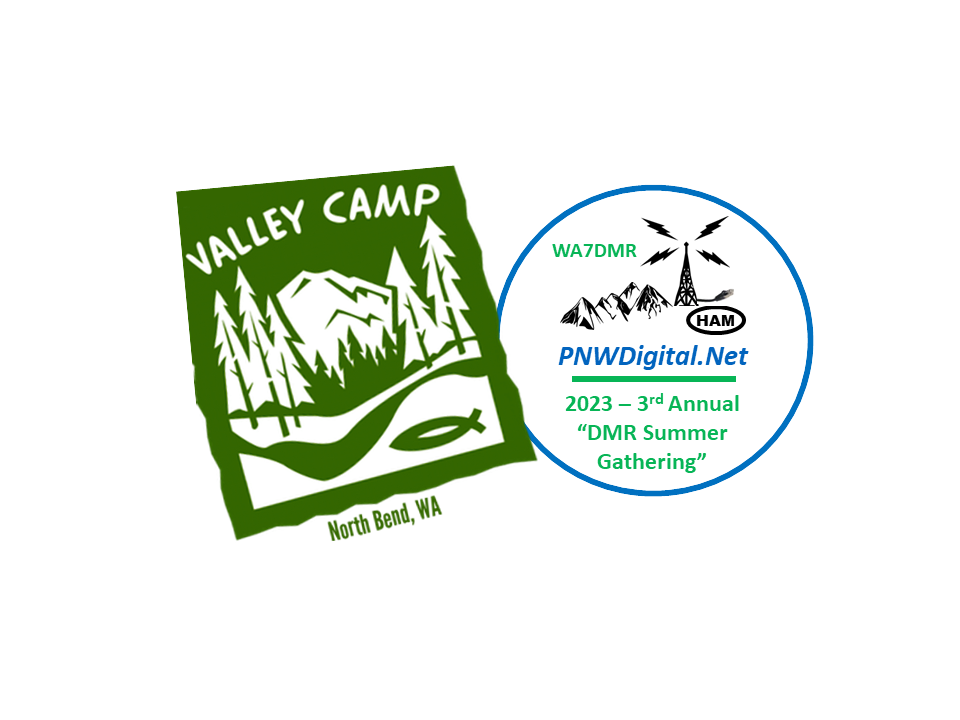 2023 The Year to Reconnect!!!
The 2023 Gathering is in the can. More to appear soon by way of the Agenda & Recap page and updated on presentations, the Bat Walk and more. This page will reappear in 2024 updated for the Gathering.
Friday July 28 to Sunday July 30, 2023 (Socially extended weekend)
Donation: $10 Admission for Saturday Event includes 1 – $5.00 raffle ticket
Saturday July 29: Main events; Presentations, Buy/Sell/Trade / Lunch / Raffle
PNWDigital and Valley Camp are co-organizing this event again, but this 2023 event will be a few months later in the year than our past Gatherings. So, bookmark this page to stay up to date. If you have ideas, thoughts or questions, you may comment at the bottom of this page or send us and Email to: gathering2023@pnwdigital.net. If you want to help us organize it, present a topic or provide other support please let us know.
7-28-23 This is the Weekend!!! // Agenda
Coffee is out as of 0700 Friady morning and all weekend
Friday late afternoon/early evening, semi-secret surprise something er-other
Talk-in Radio monitoring help needed Saturday 0600-0830 (all or part)
Sunday Pancakes (plus) hosted by Valley Camp hosts
Latest Talk-in or other comms for travel or onsite use:

Any PNWDigital repeater/hotspot (or BM): PNW Regional (31771) Timeslot 2
Valley Camp DMR repeater: Local 1 (440.725 +5Mhz, CC1)
Metro 2 Group for Valley Camp, East Tiger and Demo repeaters
446.525 simplex (also Echolink access) / 146.58 simplex

Saturday training/presentations all day; $10 donation to attend (includes 1 $5 raffle ticket)
Onsite Lunch Option on Saturday

($10 donation; salads, brats, burgers, sides, beverages / reservations requested via survey for head count)

Food: Saturday full lunch / dinner support / Sunday breakfast

Saturday dinner/potluck support with grill/BBQ, condiments, bevs optional
Sunday morning Pancake breakfast (informal)
Sat dinner/potluck support and Sun breakfast is hosted by VC Staff and at no cost but donations are appreciated. 🙂

Camano Island Coffee included for the weekend! (bottomless / unlimited)
Grand Prizes — provided by Let's Get Ready

1 – Anytone D578UV-II Mobile Radio with Bluetooth Speaker-Mic-Display (BC-01)
2 – Anytone 878UV-II HT's (programmed with community codeplug)

Charged, ready to go out of the box with a temp RID, for immediate use at Valley Camp

1 – Anytone AT-5555N II 10/11 meter mobile radio
2 – Anytone BT-01 Bluetooth display mics
5 Anytone HT 3100 mAhr batteries & 5 speaker/mics

Over $1,800 (Amazon pricing) donated for this fundraiser (contact LGR directly for PNWDigital discount pricing)
HRO Gift Certificates (not donated) // Rollup J-Poles and misc swag
RT Systems Programmer and cable certificates donated by RT Systems

PNWDigital 10% off Coupon Code: NORF (currently, may change)

Swap/Sell/Free space on Saturday, so bring your treasures.

back of the truck style, bring your own chairs and pop-up shade if you like, more info later

Camping reservations for RV full hook-ups are filled, wait list available.

Dry camp RV spaces may still be available, inquire ASAP, plenty of tent and bunkhouse space.
Call Valley Camp for the latest information and availability

DMR Demonstration Repeater and hand-out demo radios in the Pavilion

440.125 +5, Color Code 1, Local 1 and Metro 2 (networked to VC Metro 2)

With Callwatch viewing at the repeater; winkie LED's too

AreoFlex/Anritsu DMR Radio/Comm Test Set available to check your DMR HT's

Presentation coordinator: Greg, AC7RX
Raffle/Fundraising coordinator: Benton, NX7O
Folks, this is not only a training event but also social and more importantly, our fundraiser that 100% benefits Valley Camp (501c3). It is PNWDigital's only fundraiser; we are requesting donations for the benefit of an outstanding Ham oriented organization that has a beautiful venue which is well-appointed for Ham use. If you are a RV'er, camper, tenter or bunkhouse enthusiast, then you will not be disappointed. If you cannot attend, donate to PNWDigital with a note to pass it on to Valley Camp and we will do so and also add you to our donors list.
Finally, after a long Covid-19 Hiatus, we are back on this year, later in the year too so it should be warmer than our past Spring events. Here's a snippet from recent post by Greg, AC7RX
Valley Camp is a Ham-friendly, camping-based retreat center in the woods a few miles outside of North Bend, WA. It is run by two hams and all-around good people, Teena (K7HAV) and Thom (K7FZO). Over the years they have hosted numerous ham-related events at Valley Camp. The PNW Digital group had their first DMR inspired event over a weekend in May 2019. That happened to be where I got my feet wet in DMR, with a number of technical presentations, hanging-out time, and a deluxe cookout. Covid-19 put a damper on the next couple years of planned DMR gatherings, but there's been a recent effort to gauge interest in having a summer 2023 PNW Digital event.
Helpful links for planning and attendance
---
Gathering Volunteers
Presentation Coordinator: Greg, AC7RX
Fundraising Coordinator: Benton NX7O
Presenters (partial listing and TBA/TBD):

Joel, N7LF (confirmed)
Dave, W7NCX
Steve, N9VW (confirmed)
Steve, WA7HAA (confirmed)

Event Helpers (potential listing):

Mike – NO7RF (Confirmed)
Diana – KI6LWC (Confirmed)
Dale – W7HLO
Mark – N6OBY (Confirmed)
Rick – K7ITE

Ashay – K3TZZ
Calvin – KI6DRO
John – N7TES (Confirmed)
Tom – WA7TBP
Kathy – K7USR (Confirmed)
Steve – WA7DUH (Confirmed)
Rod – KC7AAD (Confirmed)

Camp Hosts: Thom – K7FZO and Teena – K9HAV
---
If you wish to know more please send an Email to: PNWD-VC-Gathering@DMR.groups.io or to the Mod Team
Group Email Addresses
First Published: January 5, 2023 Last Updated: 2 months ago by Mike – NO7RF
Hits: 846