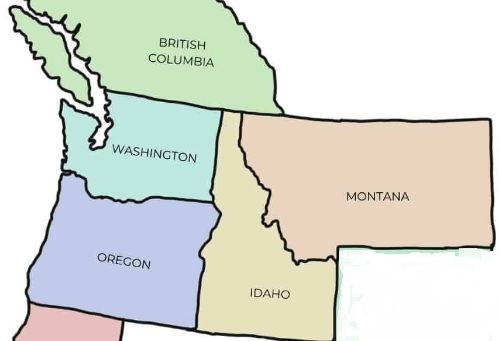 PNWDigital is an open repeater network.
No membership, pre-check-in or other notification need be made while using the repeaters during your visit or travel through the region.
For travelers assistance, use talkgroup PNW 1 or PNW 2
Thank you for your interest in the PNW DMR network. You are welcome to use our repeaters and repeater network while visiting or traveling through the Pacific Northwest. You should use our codeplug settings as they are specific to our network for the best possible networking experience.
PNWDigital is a c-Bridge based network, not Brandmeister. Our settings are different from Brandmeister. We have Anytone codeplugs available if you wish to drop one in. We use Mode 14 which supports 2 meters, 220 and 70 centimeters and we have do have 220 DMR repeaters!
Repeater Map — Shows all our repeaters on a map, click on a repeater to see more information
Repeaters page — listing of repeaters, details, coverage maps and online status
Callwatch — Live User data and caller history. Helps you to see how you well you are doing into our repeater network
Email Us — IF you have questions or need a codeplug
 
Suggested Talkgroups
| | | | | |
| --- | --- | --- | --- | --- |
| Channel Label | TGID | TS1 | TS2 | Information |
| BC 1 | 3027 | X | | British Columbia's main talkgroup |
| Cascades 1 | 3191 | X | | Primary Eastern Washington TG |
| I-5 1 | 3168 | X | | Interstate 5 for active traveler MX to BC, limit QSO's or QSY |
| Idaho 1 | 3116 | X | | Idaho Statewide TG, BM connected full time |
| Oregon 1 | 3141 | X | | Oregon statewide TG, BM connected part time |
| Parrot 1 | 9999 | X | | PNW DMR's own echo server |
| PNW 1 | 3187 | X | | Travelers calling channel on TS 1, full time on every repeater on our network, make contact, get help or information. For QSO's use a statewide or Washington 2 please |
| PNW 2 | 103187 | | X | Travelers calling channel on TS 2, full time on every repeater on our network, make contact, get help or information. For QSO's use a statewide or Washington 2 please |
| PNWR 2 | 31771 | | X | PNW Regional – PNWD's BM Talkgroup, Available full time on most WA repeaters |
| TAC 1 | 8951 | | X | PPT Talkgroup for extended QSO's, no BM connectivity |
| Wash 1 | 3153 | X | | Busy QSO talkgroup within the PNW DMR Network, connected to BM part time |
| Wash 2 | 103153 | | X | Busiest QSO talkgroup within the PNW DMR Network |
Operating Tips
If it's priority or emergency, use PNW 1 or PNW 2 and state the problem
When initially calling, please say which talkgroup you are using

We suggest using the statewide that you are currently located or Washington 2 for your initial call if you are in doubt

Idaho 1, Oregon 1, Washington 1 are the primary statewide talkgrousp (also available on Brandmeister)

If you want a QSO, say something that will spark a conversation.

Many may be listening but if you say you are traveling through or need help with navigation or traffic conditions, you will be more likely to get a response. Just throwing out your call may not do it

Initially, use high power if on an HT and a roof-top antenna in a car unless you are sure that lesser power output will make the repeater
Use Digital Monitor or Promiscuous mode to listen to all repeater traffic
Main codeplug setting are: TX same color code, TX follow color code or TX color code free depending on your radio
Do not use talker alias, data, all call or private call (no encryption of course)
No Quick Keying: allow 1-2 seconds between transmissions

This allows other users to key into or away from your talkgroup and reduces doubling

Use Parrot 1 our echo server to check for your ability to hit a repeater and sound quality and it insures that your repeater and the network are all working correctly
If possible, read our Quick Start and Best Practices pages.  They have much more detail on our network operations than does this visitors page.
First Published: November 21, 2021 Last Updated: 1 year ago by Mike – NO7RF
Hits: 798