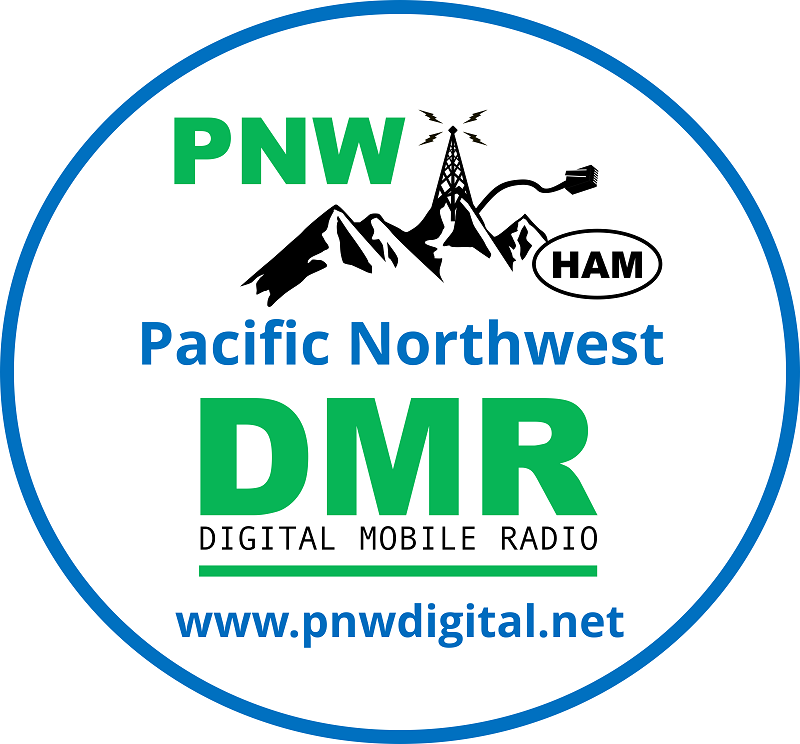 Most Washington repeater owners support PNWDigital.Net's "Best Practices" policy and will work together to insure the best operation across all our networked assets. It is our hope that users embrace our approach as it has been formulated to be in the general best interests of all network users including those who tend to monitor the talkgroups rather than actively talk on them.
PNWDigital.Net is a system of networks of repeaters open for use to all users, travelers and visitors in our region. Each repeater is independently owned and managed by their owner(s). The owners are the ultimate authority as to how their repeaters are used. But all owners have agreed to the general network structure and operation in order to be a part of the PNWDigital.Net network. Many owners, further, support Best Practices. This agreement between PNWDigital and their repeater owners is found on the Repeater Listing page by placement of a "BP at the end of line in the listing table.
There are no dues or fees for use, few restrictions but liberal suggestions on how to best make use of our resources. If you use the network, please join our groups.io subgroup. If you are a more than an occasional user, you SHOULD join the group and become a member (at no cost). If you don't become a member your access may be limited to the local repeaters and no access to our MMDVM servers or other networking resources. Please join our group to stay current on our updates, changes, new repeaters, etc. and become part of our DMR community.
We certainly appreciate our supporting members but more importantly, we hope that our users will actively follow the network's best practice suggestions while using their radios on the PNWDigital.Net network.  The growth in DMR is huge and we must have some basics controls in place that are followed by the users of the network.
As a user of the PNWDigital.Net's repeaters located in Washington as well as much of the network infrastructure in Idaho, Oregon and British Columbia, we expect that our users know the contents of this page and as much as possible, try to adopt our best practice expectations as described below.
We appreciate that new users might find all of our rules, suggestions and details to be burdensome, restrictive, unfriendly or otherwise hardly worth the effort to try to figure out if the DMR mode is for you, but that is not the intent.  We have a large and fairly complex DMR network with 1800 plus members and some order is needed due to its complexity.  We suggest starting out on Local 1, Metro 2 or Washington 1 and 2 statewide talkgroups and learn and grow into it. Remember, if you do use the network, then please become a member of the  PNWDigital.Net IO Group .
TIP: Please use High Power by default for handheld radios inside vehicles. Please use an outside antenna with your HT's, or better, use a 40 watt mobile radio. Our listeners will appreciate this!
---
Key Points to getting up to speed quickly
Timeslot 1 and 2 are completely separate talk paths that do not interact with each other.
Use the Parrot talkgroup to hear your transmissions echoed back to you. Listen for quality and your level should match the announcer
New users should consider using Local 1 or Metro 2 for testing until they learn how the network interoperates on the other wide area talkgroups.  Chat with other local users, seek out your Elmer and get comfortable. If you are not shy, then push on.

PNWR 2 and Washington 2 tend to have the most listeners, so if you want to try a QSO, try these talkgroups next.
Ask for radio check, identify that you are new user or say something that will garner a likely response.
Don't be shy as we already have many more listeners than talkers.

Check out the DMR Repeater Location Map for the Pacific Northwest.
Check out the Talkgroup Information pages, some talkgroups are special and not QSO talkgroups so become familiar with the purpose and special conditions on some of our talkgroups.
Study the Talkgroup Matrix for the repeaters you want to use to learn which talkgroups are available on those repeaters of interest. Do not use talkgroups not published. Some valid talkgroups are not published and are for EmComm or Admin use.
Nasty Audio:  Use the Parrot or our Audio Test talkgroup and the Level Meter.

Bad audio is a significant, longtime and ongoing issue
Please be aware of your loud or soft audio levels or breath puffs into the mic port that confuse the vocoder.

That can make it very hard for other users to listen to your transmissions
Please take affirmative charge of your TX audio quality and level. Hot Audios are far more objectionable than soft audios.

No Quick Keying: allow 1-2 seconds between transmissions to allow other users to key into or away from your talkgroup. This is not HF.
Think Footprint or Resources: Be considerate of your use of wide area talkgroups, especially on timeslot 1, remember that Local 2 or timeslot 2 talkgroups have less impact on our primary timeslot 1 networked talkgroups. Study the talkgroup list to learn the purpose and impact of each talkgroup that you use.
Brandmeister conversations should be kept to a minimum and moved to a TAC talkgroup as soon as convenient. PNWDigital.Net is not a Brandmeister network but a c-Bridge network that supports some of the Brandmeister talkgroups.
Please maintain minimum signal levels into the repeater to minimize obnoxious noise impact to other listeners.

That means use your highest power setting available (especially so for HT's) unless you are reasonable certain that your signal strength is stronger than -100 dBm.
If any doubt, consult CallWatch or use High Power!

When making a call, say the talkgroup you are using as many users scan, use RX Groups or can't see their display

then otherwise, they will not know which talkgroup on which to respond back to you.
Mentioning which repeater you are using is handy as well and it provides a bit more time for listeners to glance at their displays.

When calling to strike up a QSO, it is helpful if you say something more than your call sign.  Let people know you would like to converse.

Mention your location, the repeater you are using, try to pull a lurker into your QSO net
We tend have many more listeners than talkers, so try say something compelling to increase your chances of a response.

Become a "Gathering" regular for our Not-a-Net (Wed 1900 on PNWR 2).

This nrt is designed for new users and we want to help our new users, so please check-in and ask questions in the tech session.

Member participation in our interactive IO Group is encouraged to help make PNWDigital.Net better.
Please NO or very limited conversations related to polarizing subjects such as politics or religion
Please do NOT use talkgroups not on our published list, especially not All Call.
Do not use Talker Alias, or Anytone's Roam or repeater check. Our network does not support those features as provided by Anytone.
Please do NOT enable encryption. APRS and SMS text messaging is supported. Some data services are available upon request.
If you having technical or operational issues, please contact the our support team at: support@pnwdigital.net.
PNWDigital.Net's virtual "Hallmark":  "I-5 Coverage"  Much/most of California, Oregon and Washington and well into British Columbia is covered.

Please don't use this talkgroup unless it is related to travelers assistance on or near the I-5 travel corridor.
Very short QSO's are permitted but then move off to a different talkgroup.
We don't want our friendly repeaters to drop their full time status QSO's busying out the timeslot with non travelers conversations

Those errant QSO's will simply reduce overall effectiveness of our I-5 corridor coverage.

Our Quick-Start page may also assist get you to get rolling on our network rapidly with fewer hiccups.
---
MORE THAN A FEW THOUGHTS:
The PNWDigital.Net network is rather complex, yet it really can be very simple to use. Listen first or reach out locally. Start out small on the Local or Metro talkgroups, get to know your local hams, ask questions and come up to speed slowly before venturing out into the larger arena of wide area talkgroups. It is very hard to make operational mistakes when using the local talkgroups, but some hams may be quick to blast away when you muck up a wide area talkgroup. We cannot control everyone's behavior so don't get discouraged. Just reach out to your local guys and ask for more information to help you get up to speed. Don't toss the baby out before contacting your repeater owner about any issues. They are there to help you, so jettison the bathwater but give us a chance to address your issues or experiences.
Our repeaters and c-Bridge owners have invested or contributed well beyond $200,000 in repeaters, site leases, Internet, insurance, Heliax, commercial antennas, commercial tower climbers, gasoline, Motel nights, networking and hundreds of hours of labor in the design, programming, installation and maintenance of this network as well as time away from their family. There is no such thing as a 2 hour hill trip, 2 typically can be 8 (our record is 17 hours). This is under appreciated by some insensitive users or they feel they can do what they wish on "their" open repeater. Please don't take on their sense of entitlement provided to you by some very dedicated Hams.
Our network is a collection of many individually owned assets. While we try to have uniform rules or expectations, there are some variations between single repeaters, areas and states. Every repeater listed on our Repeater List page has the Email or web contact address (hover/click on the color code) so that you can contact the repeater owner for questions on use of their repeater(s). Or simply seek them out over the air, introduce yourself and express your appreciation. They will appreciate it. It might be the beginning of a new friendship. Folks tend to be quick to complain but slow to show appreciation, so complements are very welcome.
Maybe said another way, think about taking your spouse out for dinner 1 night a year and tell her that PNWDigital.Net suggested that an annual night out was a good investment in your continued relationship. Or maybe you could do both and thereby, pay it forward. Something to consider, the value of a relationship.
If you have questions, please Email Support, any repeater owner (click on the Color Code link on the Repeater List page), post your question to our PNWDigital IO Group or ask during our weekly Not-A-Net Gatherings. This is your change to get input or help from other members. Do not be shy, ask!
Lastly, if you agree and wish to become a supporting member of PNWDigital.Net, then send an Email indicating you agree in principal with our best practices. If you think we have this hopelessly screwed this up (FUBAR comes to mind), well you can tell us that as well…and maybe provide some insight on how we may be able to do better.
Note: Motorola MotoTRBO radios are the ONLY fully compliant radio with our MotoTRBO IPSC repeaters. TXI is missing from most non-MotoTRBO radios and roaming, SMS and other data services are not not necessarily fully compatible, so your mileage may vary. We have made a significant effort to support the Anytone line. We feel that it is the best all around hardware that fully supports the network at a excellent feature
NOTE: The Anytone AT-D878UV series HT is the best all around dualband HT. PNW is actively supporting the codeplugs and it will be regularly updated to keep up with PNW growth. Please use HIGH Power with any HT, especially if operating from inside a vehicle.
HUGE: A big consideration overlooked by new DMR users is that the low end radios tend to have very POOR programming software and much less PNWDigital.Net codeplug support. You may be be on your own without any support building a codeplug. It is a daunting task that can take many hours and easily be done incorrectly. That is a recipe both to give up prematurely on Ham DMR as well has have substandard operation on our networks. Please consider our support already in place by your use of the better radios at least for your first DMR radio.
If you have not yet purchased an Anytone DMR radio and you do find something down in the range of $13 to $30 to get you on the air and on our network, please consider it to be a provisional radio while you learn DMR and before you are ready to invest in radios for permanent use on our networks. In other words, that it be for temporary use or evaluation and well may become a spare or glove box radio as you invest in the endorsed models from our list above.
First Published: February 6, 2022 Last Updated: 7 months ago by Steve Vanwambeck
Hits: 606