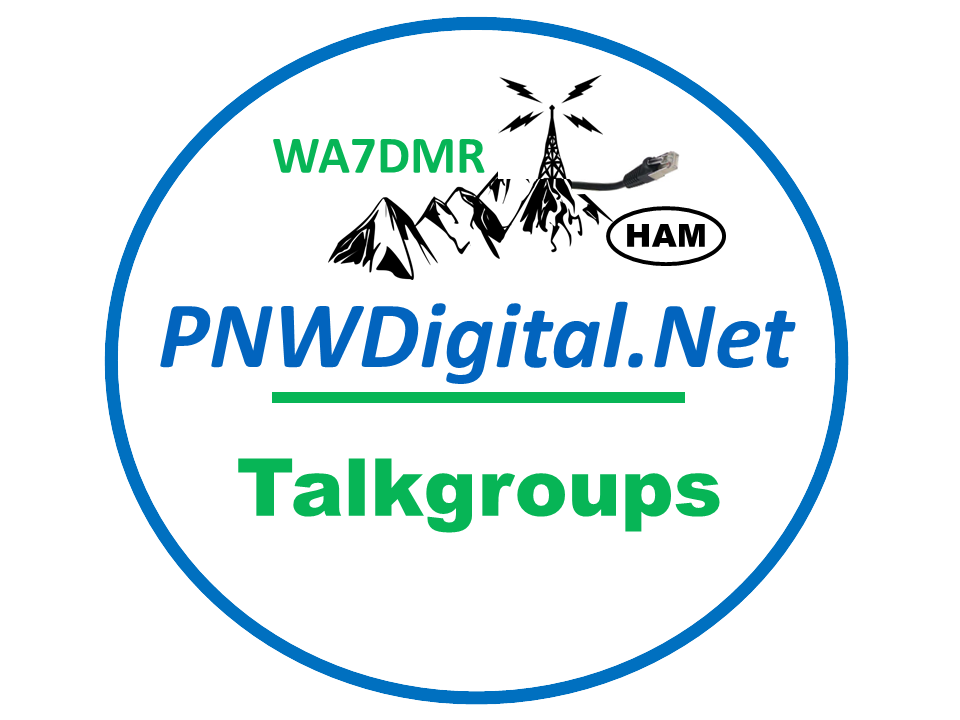 Talkgroups (AKA: group calls) are the linchpins to operating on all Ham DMR repeaters and are created generally to accomplish a specific task organized by purpose but could also be by ham clubs sponsoring or by location or areas served.
Talkgroups are very simple at their core. You typically talk on one and all the control, routing, links repeaters, networks is implemented on the backend. More details on how that is accomplished is available in the Talkgroups Menu above.
The listing below contains most of our talkgroups. The table has the TG ID, Timeslot, whether full time or part time and some details. This is the very basic information needed to make use of these talkgroups on our network.
Talkgroup
TS1 ID
TS2 ID
FT/PTT
Brief Description – More Details
Audio Test
9999
PTT
W7NCX's VU Meter (also listens to Parrot, Wash 2 and PNW Reg 2)
BC
3027
PTT
British Columbia talkgroup
Bridge
3100
PTT
The Bridge was the first wide area multi-c-Bridge linked talkgroup back in 2011.  Since, it has morphed into a channel 19 type of busy worldwide talkgroup with Brandmeister accessibly. (limited use only on PNWDigital please)
California
3106
PTT
California Statewide on Brandmeister with but not a part of PNWD. Ok to call and QSO with a user located in this state.
Cal-TAC
3107
PTT
California Statewide TAC, Hosted by PNWDigital.net. This talkgroup is repurposed to support a secondary FT presence in California for the long time DCI (IRG now) repeaters.
Cascades 1
3191
FT
Full time talkgroup for WA repeaters located east of the Cascades range, PTT elsewhere generally. Home of the Coffee Net Monday, Wednesday and Friday at 0800 local.
ECR 1-1, 2-2, 2-3
FT
Region 1 Snohomish/ talkgroups for the Lookout UHF, Oso and Bremerton repeaters TGID is not published. [More Info]
EmComm 1
—-
FT
EmComm or Public Service Groups Only, EmComm 1 and 2 are only available on select repeaters as a local only talkgroup and then is restricted to only ACS/EmCoMM uses. TGID is not published. [More Info]
EmComm 2
—
PTT
EmComm or Public Service Groups Only , EmComm 2 is only available on select repeaters as a local only talkgroup and then is restricted to only ACS/EmCoMM uses. Typically programmed with 5-10 minute hold-off timers for all TS2 talkgroups. TGID is not published. [More Info]
I-5
3168
FT
NOTE: Not for general QSO's; I-5 corridor coverage area repeaters only from California to Washington and into British Columbia. Traveler's talkgroup for users on I-5 related to I-5 travel; very short QSO's only please. Switch TG's if using this TG longer than 2-5 minutes please so that all repeaters will continue to keep this TG on full time. <Maps and Learn More>
I-84
31419
FT
I-84 is a talkgroup sponsored and managed by the I-84 Group in Portland. This group built out repeaters from Portland to 7 miles east of Pendleton and encourages others to continue building out DMR coverage along Interstate 84 into Idaho and Utah
Hawaii 1
3115
PTT
Very limited use on only a few repeaters by agreement with Hawaii DMR This is Hawaii TRBO's main TG on their timeslot 1 but it is carried on PNWD's timeslot 2. It is PTT here and for special use only to Hawaii TRBO members. It is available only on the Washington West cluster.
Idaho
3116
FT/PTT
Idaho statewide is full time on Idaho repeaters, PTT if the PNWD repeater is not in Idaho (one state will not busy other state). Brandmeister is connected full time.
Idaho-ARES
31160
FT/PTT
ARES Idaho is generally full time on PNWD Idaho repeaters. See Guidelines for use and this is a Brandmeister talkgroup
Inland
3116
465263
PTT

Wide area Full time TG in the southwestern states now hosted by

PNWDigital

, QSO's are welcome

Local 1
3181
FT
Generally is local repeater use only, can be used as an MCT off for 5 minutes, QSO's, testing with other local users as this is a single repeater talkgroup. Locals have 5 minute hold-off timers to limit network traffic for a pseudo priority effect. Use of Local 1 will turn off all other PNW timeslot 1 talkgroups which blocks interstate PNW traffic, so it is better to use Metro 2 as your primary Local talkgroup on most PNW repeaters.
Metro 2
3166
FT
Metro 2 is a fulltime calling or QSO talkgroup among a small group of repeaters related by proximity. This may be 2 or more repeaters in in a small region. This provides a method to QSO without busying all statewide repeaters yet have wider coverage than provided by Local 1 but also is a full time talkgroup unlike the TAC's.
MCT's
177xxxx
177xxxx
55/15
Master Control Talkgroups, no voice traffic. This set of talkgroups are used to turn on or turn off most talkgroups on timeslots 1 or 2 for typically 55 minutes on time or 15 minutes of hold-off time. <More Info>
Montana
3130
PTT
Montana statewide with Brandmeister connectivity
Mountain
3177
PTT
DMR-MARC Interstate Regional for our region
MPRG1
31301
PTT
Montana-DMR, Mac Pass Repeater Group, with Brandmeister connectivity
Net 1*
31001
PTT
Spare for expansion / Nets from around North America / * Only active during actual net event
Net 2*
31002
PTT*
Nets from around North America via Brandmeister/ * Only active during actual net event
North America
3163
PTT
DMR-MARC North America-wide talkgroup.
Oregon
3141
FT/PTT
Oregon statewide is full time in-state, part time for out of state PNW repeaters. QSO's are welcome, with Brandmeister connectivity
Oregon Central
31411
FT/PTT
Central Oregon talkgroup with Brandmeister connectivity
Parrot
9998
PTT
Polly is our echo test server now living in Spokane, a free-range bird
PNW 1 (Calling Only)
3187
FT
PNW Main All Repeaters; EmComm, Calling/Hailing or Standby use ONLY, No QSO's please! // NOTE: this TG lights up EVERY repeater on PNWDigital network
PNW 2 (Very Short QSO's)
103187
FT
PNW Secondary secondary Calling talkgroup; very short QSO's only, lights up EVERY repeater on the PNWDigital network
PNWR 2 (bm)
AKA: Northwest Regional
31771
FT/PTT
Northwest Regional is PNWDigital.Net's talkgroup on the Brandmeister network with connectivity into the PNWDigital.Net network, QSO's OK // Not-a-Net Gathering Wed; 1900
PS 1
—-
FT
Washington EmComm or Public Service Events Only, no kerchunking please; 2 hour Hold-Off timer // nets, drills and pre-scheduled events should be calendared with PNWDigital.Net beforehand. If not a statewide event, request PS 2. [More Info or PS]
PS 2
——
PTT
Washington EmComm or Public Service Events Only, no kerchunking please; 1 hour Hold-Off timer // nets, drills and pre-scheduled events should be reserved with PNWDigital.Net beforehand. [More Info or PS]
RACOM ARC 2
315310
FT/PTT
RACOM Amateur Radio Club talkgroup with Brandmeister connectivity.
SAR-WV
314122
FT/5
Willamette Valley Oregon Search and Rescue use only on the Salem/Prospect Hill repeater with crosslinking to the OR-SAR talkgroup on their House Mtn repeater.
SNARS1 2
31328
PTT
SNARS main talkgroup; SNARS / SNARS 1 is carried on PNW on timeslot 2
TAC 1
8951
PTT
TAC 1 is PTT within PNWD, primary talkgroup to use for extended 2 (or more) person QSO's as it is on most WA repeaters
TAC 2 & 3
8952-8953
PTT
TAC 2 and 3 are PTT within PNWD only, available on fewer repeaters so less used but good alternative to TAC 1 which currently has more traffic, will expand with network growth
TAC 310-312
310-312
PTT
Worldwide "TAC" talkgroups engage the fewest repeaters, with Brandmeister

connectivity

TG 9
9
FT
Available locally on MMDVM servers as an annunciation TG only
USA
1776
PTT
Worldwide; unlimited conversations, QSO's are welcome, via the MIT network.
Any language talkgroup, conversations encouraged, no limits, www.mitcom.com.
Utah
3149
PTT
Utah statewide with Brandmeister connectivity
Washington 1
3153
FT/PTT
Washington statewide is full time on in-state, part time for out of state PNW repeaters, with Brandmeister connectivity. Long QSO's should likely move to a TAC talkgroup
Washington 2
103153
FT/PTT
Full time on most western WA repeaters, it is a QSO talkgroup but consider moving to a TAC talkgroup QSO's are if longer than 15 minutes
Worldwide
3161
PTT
DMR-MARC; hailing and short QSO (limited use only on PNWDigital please)
Talkgroup
TS1 ID
TS2 ID
FT/PTT
Brief Description – More Details
Not all repeaters carry all PNW talkgroups; see our PNW Talkgroup Matrix
Timeslot 1 has PNW's primary Talkgroups, Timeslot 2 has PNWDigital's secondary and other network talkgroups, generally
Statewide talkgroups are fulltime for in-state repeaters and PTT for out-of-state repeaters, generally
PTT: On timer:15 minutes / Hold-off timer: 3 min; default timers unless noted above
First Published: September 25, 2021 Last Updated: 3 days ago by Mike – NO7RF
Hits: 1543