UPDATE: Sampler Codeplug updated with major PNWD repeaters // Pricing for the C006D can be as low as $31, which makes it a good buy for a secondary or glovebox radio. // Buying your 5-star review / I updated this page to reflect more on my several months experience with these radios as well as their wider use on the PNWD network. Amazon pricing is volatile so check often. Skip all but the C006D if you think you want a Cootie as your primary radio.
These low cost UHF DMR radios are not "endorsed" by PNWDigital but may be used. If you are new to DMR, this series of UHF DMR HT's will not provide the best user experience for you to fairly evaluate DMR. There may be a place for them such as for use on hotspots, Go-Box, Glovebox, back-up, demo, giveaway, throw-away, analog, simplex or full duplex monitoring. Only the C006D (yellow case, far right) is truly worth getting if you want something somewhat better in the low-cost range occupied by Baofeng level junker radios. I use the Anytones and always take MotoTRBO radios on hilltrips, but still, there is a place for the 6D Cootie Radio.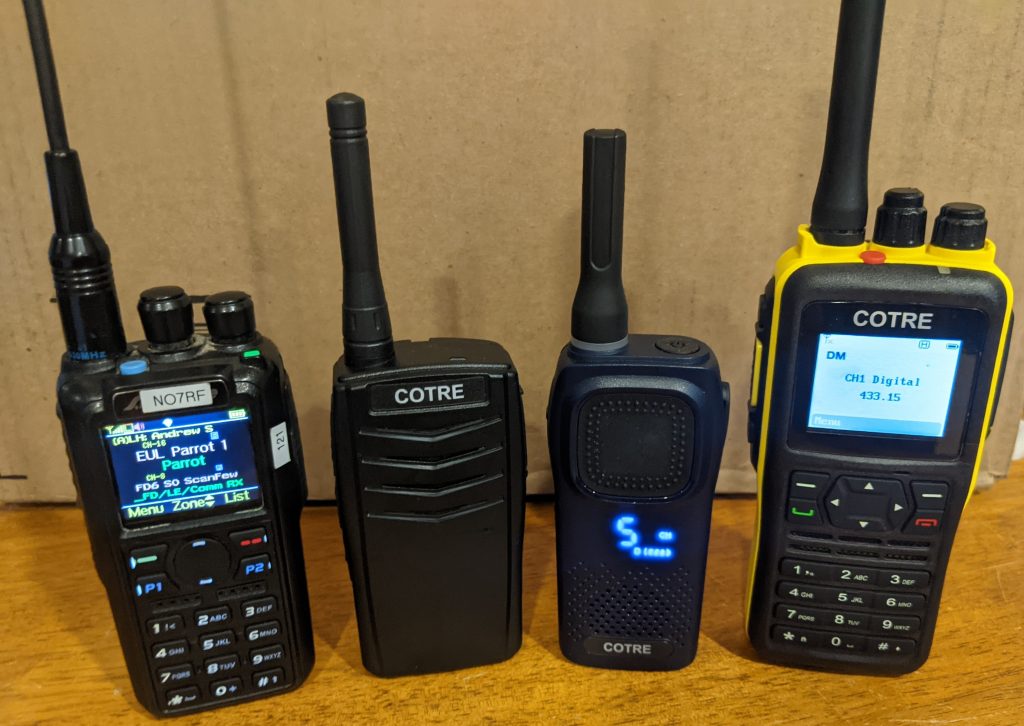 Amazon Reference: C001D // C004D // C006D // Prog Cables are $9 for the 1D and 6D, $20 for the 4D
BOTTOM-LINE TIP: All pricing can vary widely. If you must get a Cootie, go for the C006D. The C004D (at around $30) and "1D" for any use other than monitoring, is a waste of $$$, IMHO. The upgraded "4D" is better than the 1D and has multiple zone, 32 channels rather than 16 in the single zone, translucent display and works quite well on VHF and 220 with an antenna mod. But honestly, don't spend time or money on the 1D or 4D Cooties unless they are priced at less than $10 or $20 respectively.
The C006D $31-$65 UHF "professional" radio is best of the lot (Pros/Cons) and can be useful on VHF also. So the value/cost is about half of the dual-band Anytone 868 at around $120. I'd go with the 868 if possible.
CPS, Codeplugs and Docs are at bottom of this page
C006D Update: Functions as described, no issues yet, single receive, no digital monitor, so must use the Rx/Scan technique for a pseudo digital monitor, has some interesting equalizer settings in radio's menu. Simple opinion; this radio may be worth $50 but still the 868 at under $120 would be the better overall value to most hams. New DMR users likely won't be given as good a DMR experience that would be expected from an Anytone. Again IMHO and with a bit of bias too. But then, $31 is a compelling price-point and why I just 4 more tor demo or giveaway hardware. Your mileage may vary.
While the Cotre's are very low cost, they are especially poor for first time DMR users and should not be considered a primary radio. The user's DMR experience is likely to be inferior as the radio does not have the great ham features of the Anytones and will not likely make for a good first impression of Ham DMR. Simplex and single slot hotspot use may be OK as well a a glovebox, backpack or secondary radio. Again, your mileage may vary.
The Cotre 6D's should be considered as spare or back-up radios and not a primary DMR radio for new DMR users.
---
I created test codeplugs so I can better evaluate the "1D", "4D" and "6D". It might give you a boost for a jump-off point.
Russell, K7RRL has created a nice programming guide for the "C006D" and it is in Document – Cotre files at the bottom of this page.
By using the AJ6JA Unlocker (or Hex Edit), codeplugs can be enabled for 144-470 Mhz channel entry (thanks to AC7RX). The C006D radio works fairly well when TX'ing on VHF with a dual band antenna. Rx operation can be enabled from 100-999Mhz and VCO lock in some of those segments are possible. Once modified, by sure save your codeplug, then read your radio and save that codeplug as you master
BEWARE: It appears that the CPS is the same for all 3 radios. But be sure to load and write the correct codeplug to hardware. The wrong version written to the radio can BRICK it. Ask me how I know this. The stock codeplug for each radio is included in each CPS for each version. Or you can just read your new radio, save it, tuck it away and then resave it again under a new working filename and build away.
---
6-27-23: Sadly, no longer available on Amazon and hasn't been for months. // 12-29-22: Now $31.99 with coupon / 4-2-22 UPDATE: This radio is now $37 with Amazon coupon, great value radio at this price point
C006D Pro's – Consider this model, skip the 1D and 4D below
Might be a decent inexpensive $50 Dual band FM/DMR Starter Radio without the many features of the Anytone HT's
C006D Cons
---
Early testing puts the C004D (4D for short) at the head of the class of the 2 for a value/cost ratio only (go for the 6D if you must go with this manufacturer). the 4D is about $30 (Amazon with coupon) currently while the C001D (1D for short) is about $21. Get the "4D" as it is substantially better for a few more dollars if you must. It uses a different prog cable but uses the same puny battery as the "1D"'s (nice if you already have one). Do not pay $60 for the "4D", there are better and proven HT's out there with a decent track record.
C001D Pro's – Skip this radio, stick with the C006D model above
C001D Con's – Skip this radio, stick with the C006D model above
So now have 2 1D's listening the desk chargers 7/24. The wall wart is 5VDC @ 550mA into a micro B connector. The tiny radio batteries charge at 4.2 VDC and float at 4.1 VDC. Radio on in charger with fully charged battery is drawing about 45mA. So a standard low power USB port on a computer, etc will keep these radios charged, so you can charge them in the car if you like. The battery is hard to change out with the belt clip in the way.
---
C004D Pros – this is the model suggested as having the best value/cost ratio (VHF, 220 & UHF)
C004D Cons
---
Cotre CPS
Cotre Codeplugs
Documents for the Cotre line of hardware
First Published: January 20, 2022 Last Updated: 6 months ago by Mike – NO7RF
Hits: 4431