You may have been seeing some odd RID's recently on your radio displays.  Part of the reason is BM and part of the problem is how the c-Bridge (our network controller) is handling RID's.  The c-Bridge will have a fix issued soon but BM is routinely passing RID's that do not comply with the DMR standard for client radio user ID's.
Please us only your 7 digit RID's as assigned to your call sign by RadioID.Net when using PNWDigital's MMDVM servers and Repeaters.
The BM 2+ RID's (3153456 + 01) are not compatible with our network These plus 2's exceed the DMR standard in raido ID's as well is Talkgroup (group call) ID's. The ETSI DMR standard (2013) is a max of 16,776,415 (FFFCDF16 Hex). The example above is 315,345,601, well above the DMR standard.
While Brandmeister allows use of 2+ RID's, they are not compliant with our network. Once we have the bug fixed that is causing us the grief with BM RID's not showing correctly on the user's radios, then we will be looking at the 2+ mess. It is fine to program your user radios above 16 million on Brandmeister but otherwise use you 7 digit RadioID.net issued base numbering for PNWDigital.net
The Anytone radios support multiple radio ID's via their "Radio ID List" ID line #1 is generally the default for all channels, so you only need to add another for your 7 digit RID and then change your channels to that name in the "Name" field.
This 7 digit RID scheme is the standard (in the Ham while BM has this 2+ variation that is exported to PNWDigital on our cross-connected talkgroups is not.  While we are not yet enforcing 7 digits at the network level at this time, it will likely be coming down the pike sooner than later.  So if you are programming, incorporate the 7 digit ID's now and save yourself not being able to access the network later.

——————————————
Document Reference:
ETSI TS 102 361-1 V2.2.1 (2013-02) Appendix A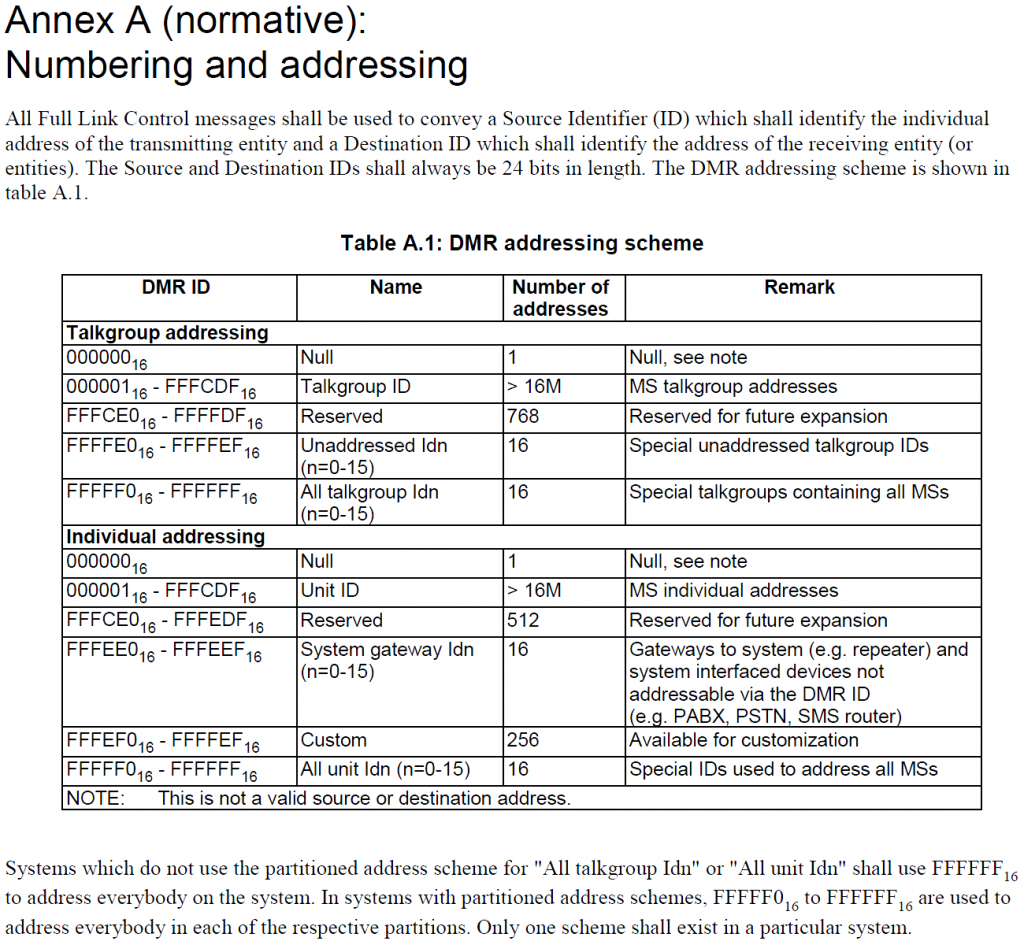 Hits: 4