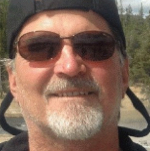 Joined: Nov 25, 2021
Last seen: Jul 31, 2023
Olympia Washington USA. Been a ham since I was 13, active on & off throughout the years. Always have an HF rig and a bunch of antenna wire & tuner in case TSHTF, but currently enjoying messing around with DMR, especially the PNW-Digital network & participating members.
After 20 years of fun and hard work in land mobile industry I got out of it in the late 1990s after 4 years of work for the NSF's polar science program in Antarctica. There I got to do it all -- installing & maintaining HF, VHF, UHF & microwave pt-pt & 2-way voice & data systems, satellite data systems, and field engineering for special projects. Challenging but fun... spares were scarce, remote site work was tricky (& dangerous I was told), and I spent way too many hours in helicopters. This was before satellite phones of course.The next 20 years were working in wildlife biology, getting into it after doing electronics projects for a whale research group, ending up back in college as an oldster to get a biology degree. Could have continued with whales, but got hooked on the secret lives of bats, after a project helping ( drum roll please...) radio-tracking bats in the Cascade foothills east of Mt. Rainier. Bats are kind of my thing now, although I'd swear that I tried to retire a couple of years ago. Besides radios and bats, Lori and I go hiking and even some backpacking still, dig razor clams, tent camping in the appropriate season, and we thought we'd be doing a lot more traveling than we currently are.Oh, and no arrest record or bankruptcies. And when the FCC was still issuing them, I had a "1st Phone" ticket, downgraded to General Radio-telephone of course. Ok, that's my life's story minus a few small details. Got to save a few things for the movie!
Hits: 52736