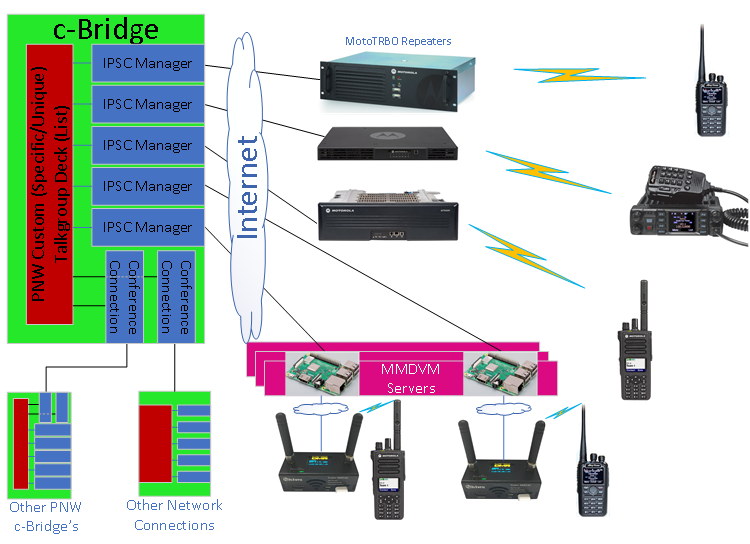 An imperfect analogy:
The c-Bridge is a router, IPSC connection is a VLAN trunk, Talk Group is a VLAN on that trunk, at least in the sense that the packet is tagged with a VLAN-ID/Talk Group ID.
Each Manager is a vSwitch that acts more like a hub.

Each Manager has one arbitrarily defined master member, and the rest of the members are peers.
The master simply publishes the peer list.
Every member is responsible for sending copies of every packet to every other member on the Manager, the Manager does not repeat anything.

The c-Bridge is only in the audio path for calls that route between multiple Managers.
The repeaters connect to the vSwitch Manager, and their own programming configures "VLAN interfaces" for each Talk Group.
Repeaters and their Talk Group line-up…as well as multiple repeaters on a single IPSC network as based very wide-ranging ideas, needs, planning, purpose and ownership of 1 or more repeaters.

So LOCAL is dumb and not managed, while calls into the c-Bridge are fully managed and routed.

Location of the repeaters plays into which Talk Groups are available and their PTT/FT and timer settings.
First Published: January 9, 2022 Last Updated: 2 years ago by Mike – NO7RF
Hits: 99